---
Spanish cities have different types of neighborhoods—as it has been previously set out in how it is the city of Alcalá—and, depending on where you live, lifestyle changes. However, there are some ordinary and common characteristics, especially in those placed at the city center.
Historical neighborhoods of cities as Alcalá use to be composed by low buildings and have low population density, though it is common to see streets of the most touristic and central neighborhoods crowded at all times. Some areas of historical center neighborhoods are similar to small towns settled in the middle of the city. Lifelong neighbors know each other and have close relationships, and as most stores are local—some of them centuries old—, it is usual to have personal treatment with shop assistants, waiters and any other worker within the field of customer-facing work.
Within old neighborhoods near city, most people do their shopping in small stores or in the market; it is unusual to find superstores in that area. In the center of Alcalá de Henares—very close to plaza de Cervantes—the Wholesale Food Market is placed.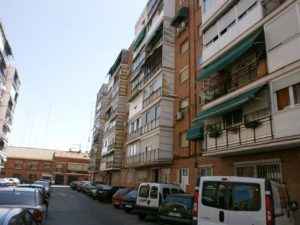 As in order to do the shopping it is necessary to cover several and different establishment or market stands, it is common to observe people in the street carrying a shopping trolley, mainly during the mornings. Shopping trolleys are not exclusively used in Spain, but if you came from a country in which the shopping is usually done by car, such as United States, maybe such people attract your attention.
Anyway, lots of people prefer to go shopping once a week or once a month by car, to a superstore or shopping center able to offer more variety than small neighborhood stores. Besides, superstores prizes use to be lower. Here you may find more information about how to buy in Alcalá.
Within the most modern neighborhoods placed in the city center, daily life is a few more impersonal. Buildings are higher and have more floors, so it is uncommon to get to know all neighbors, and the shopping is done in medium size supermarkets where the relationship with employees is neither so close—above all because many of them have short-term temporary contracts, and those who have permanent contracts use to change often their responsibilities to other positions or establishments of the same chain.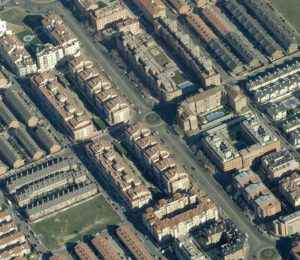 In the middle of city center, both historical neighborhood and modern ones counts with some parks of squares where parents go with children for playing. Kids use to attend to schools within the same neighborhood, so many times families with children create more relationships within the neighborhood than those without children. People who do not have kids are commonly more related with people from different neighborhoods, simply because their friendship emerge usually between people known at work or any other activity than between neighbors.
Neighborhoods away from the center are much more impersonal—though many people from the same neighborhood know each other and are friends—, buildings are higher and many of their inhabitants work in other zones of the city (or near cities) and only go home to sleep.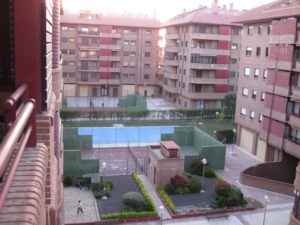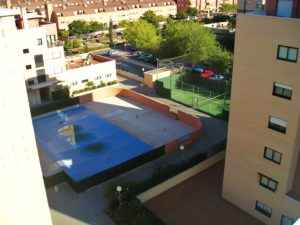 Apart from commercial establishments and parks, almost all Spanish neighborhoods have nowadays some kind of municipal center where courses and other free or reasonable prized activities are offered. Such activities help both to know people from your neighborhood and to escape from work routine by doing a different kind of activity.
Besides the typical conception of neighborhoods, in the center of the city or in suburbs, there are also specific areas in Spain which, situated in the outskirts, are greener than others and composed by semi-detached or detached houses. Such zones do not have many stores, squares or parks. Neighbors may know each other but neighborhood lifestyle does not exist— their necessity of using the car every time they do something outside home stops it. In any case, most people in Spain live in flats or apartments, this kind of neighborhoods or single-family zones are not very common, though the number of people who prefer this lifestyle is gradually increasing, added to others who decide to have a second house in some outskirts town.
If you are curious about seeing how it is the inside of Alcalá de Henares' houses, here you can observe both their inside and outside.