Este texto también está disponible en español
Third oldest university of Spain, The University of Alcalá de Henares was founded in 1499. Its monumentality was one of the key elements for Alcalá de Henares to become a member city of the World Heritage Center list of Unesco, in 1998.
The University of Alcalá de Henares was founded in 1499 by the minister of the Catholic Monarchs, Cardinal Francisco Jiménez de Cisneros, thanks to a papal bull of pope Alexander VI. By that time, Sancho IV the Brave, King of Castile, had already created the Estudio General de Alcalá, in 1293. Just like in Palencia, Salamanca, Valladolid or Santiago, this studio—or ecclesiastic school—set the seed of what afterwards will be turned into a university.
As Cardinal Cisneros wished Alcalá to be one of the three pillars of Spanish triangle of power, he personally led its foundation. Therefore, while Madrid would become the administrative capital and Toledo the religious one, Alcalá would be the center of culture and knowledge that would serve both, most trained servants of royalty and most prepared clergy.
Thus, the University of Alcalá, named praeclarissima Complutensis Universitas, was the first planed University City, with a large group of buildings and streets of a modern layout—model for many of those constructed in America and located in Europe or any other parts of the world.
Halls of residence and boarding schools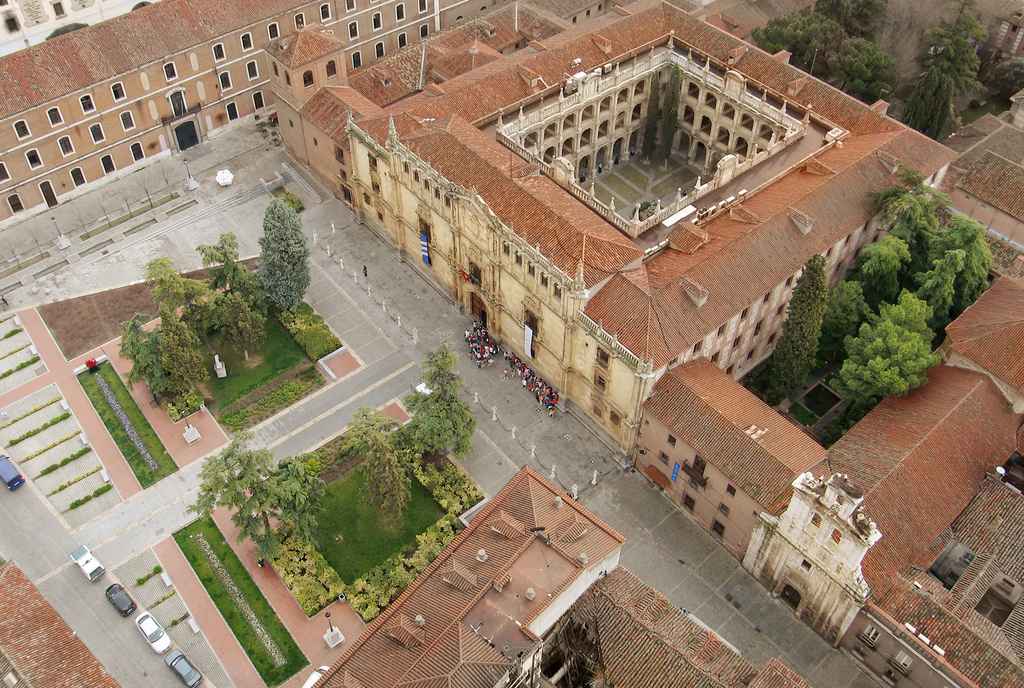 With his Renaissance project, Cardinal Cisneros created a new educational model, the School-University, based on the Colegio de San Ildefonso, situated next to the chapel dedicated to the same Saint. Every year, a new rector was elected among its scholars, who had enormous powers in academic, judicial and economic fields linked to the university.
Additionally, other several centers named boarding schools were created. These schools included grants to allow modest scholars accessing education to: Santa Catalina, for Aristotelian Physics students; San Eugenio, for grammarians and languages students; Santa Balbina, for logicians; and San Isidro, for grammarians and Greek students.
In addition, there was a strong link between Halls of Residence and schools of Madre de Dios, for theologians and doctors; and San Pedro and San Pablo schools for Franciscan monks—same ordination of which Cardinal Cisneros was member. The Cardinal also constructed the university hospital of San Lucas, the printing house and a great number of accommodations for masters, students and university servants.
Where Quevedo, Lope and Juan de la Cruz studied
The University of Alcalá or Computense reached its highest magnificence in the sixteenth and seventeenth centuries, with the expansion and improvements in both architectonical and artistic fields. This majesty is displayed today in all its glory, in the extraordinary façade of San Diego square, now without the firs that once filled the square. The University of Alcalá was, along with Salamanca and Valladolid, one of the three greatest of the Spanish monarchy of that time.
In that time of magnificence, the University of Alcalá became one of the main points of academic reference in Spain and Europe. Within its walls, the greatest maestros of art and many other disciplines studied in there, such as Nebrija, Tomás de Villanueva, Ginés de Sepúlveda, Ignacio de Loyola, Domingo de Soto, Ambrosio de Morales, Arias Montano, Juan de Mariana, Francisco Valles de Covarrubias, Juan de la Cruz, Lope de Vega, Quevedo, and so forth.
Gil de Hontañón façade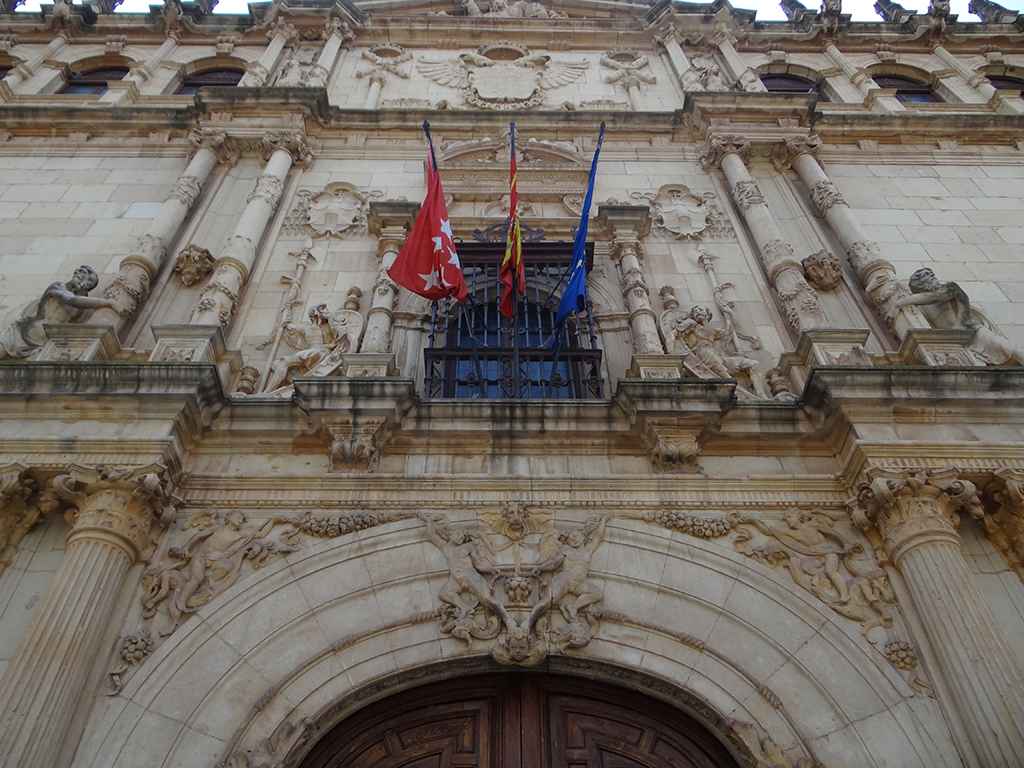 The splendid Plateresque façade of the University of Alcalá, along with its Paranymph, are the institution's greatest artistic jewels. Built between 1541 and 1553, this façade is one of the two most famous examples of sixteenth century Spanish architecture. It is composed of three different modules: two side modules composed by two sections each one, and a central component, divided in three parts and culminated in a gallery and a triangular pediment. The central axis of the façade, impressive, due to the singularity of its superposition of architectural orders drawing the whole all together, is clearly stood out.
In addition, the harmony that dominates the façade is defined by the well-balanced relationship between flat surfaces and luxurious decoration, principally centered in the mannerist holes of the noble floor.
The Paranymph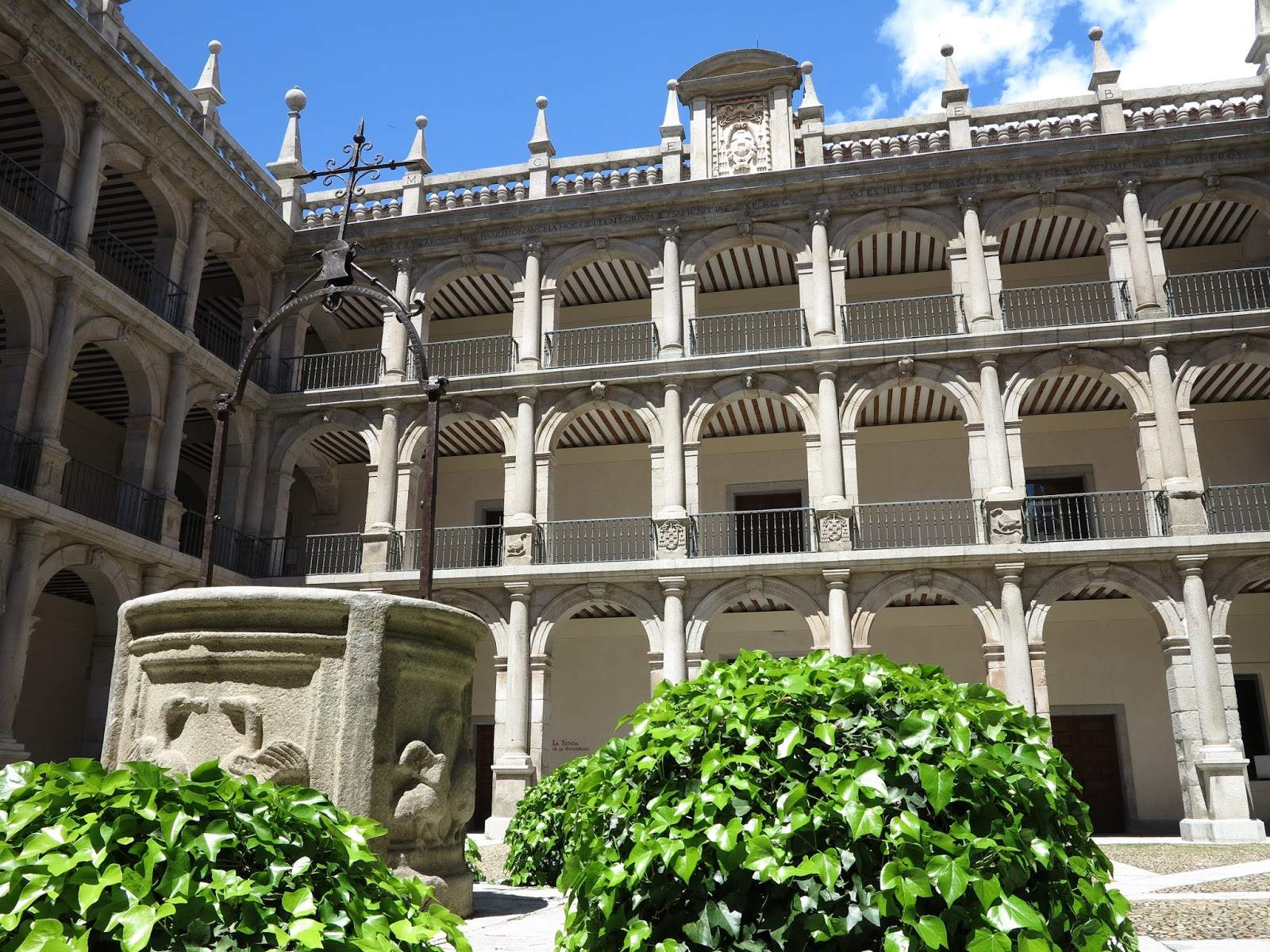 The Colegio de San Ildefonso holds an internal passage that goes through three big gardens: Santo Tomás de Villanueva, Filósofos and Trilingüe gardens—a must for University visitors. The latter garden is the Paranymph jewel, where every year, on 23th of April, the Miguel de Cervantes Prize for Literature is awarded.
The Paranymph has to different heights of rectangular shape and it is covered by a Mudéjar inspired coffered ceiling, full of six-pointed stars surrounded by hexagonal figures with rosettes in their inside. It stands out the typically Plateresque decoration of the chair.
The relevance of the Paranymph mostly lies in its significant decorative aspects, like juxtaposition of Islamic techniques and natural forms, considered by experts as a key aspect of Mudéjar Plateresque.
The first Spanish female doctor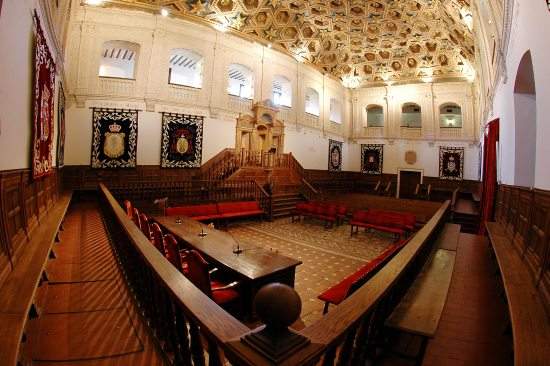 With the awake of Enlightment, in the eighteenth century, the university way of teaching underwent many reforms, and therefore, the former power San Ildefonso Hall or Residence held since their foundation, started to decline. Even so, that was the period in which Gaspar Melchor de Jovellanos studied, and when, for the first time in Spain, a woman received the degree of Doctor in the Arts and Humanities: the Alcalá's Doctor, María Isidra de Guzmán y de la Cerda.
When the Ecclesiastical Confiscations of Mendizábal came, in the nineteenth century, the university was moved to Madrid along with all its assets and heritage in 1836—changing its name to Central University during almost a hundred years, and then, since 1970, to Complutense University of Madrid. In 1977, some University of Alcalá faculties at first, and the whole institution since 1985, turn back to run properly in its old buildings, which had been conserved thanks to the effort and tenacity of the Condueños Society—a group of Alcalá's citizens that prevents buildings to be destroyed or lost.
Today, the University of Alcalá has more than 28.000 students, 2.100 professors and researchers and 800 administrative and service workers, and offers more than 35 formal qualifications of Bachelor as well as a whole range of great Graduated studies offer and continuous training.
Curiosities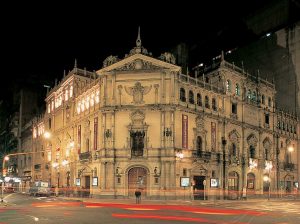 The fame of University of Alcalá's façade was not bounded to the sixteenth century. In fact, long time after, it was still being a source of inspiration (sometimes) and imitation (some others) for buildings around the world.
One of the most famous locations is the well-known Cervantes Theatre of Buenos Aires, Argentina's capital. A building put up at the end of last decade of the nineteenth century late nineties and inaugurated in 1921 as a classical Spanish theatre, under the sponsorship of the Spanish Royal House and the Spanish actress María Guerrero. Its architecture is an exact copy of that of the Cisnerian University, and not by chance, as it served as a model to pay tribute to the Spanish Golden Age. For that reason, materials and stones were taken from Spain to Argentina deliberately to build this theatre.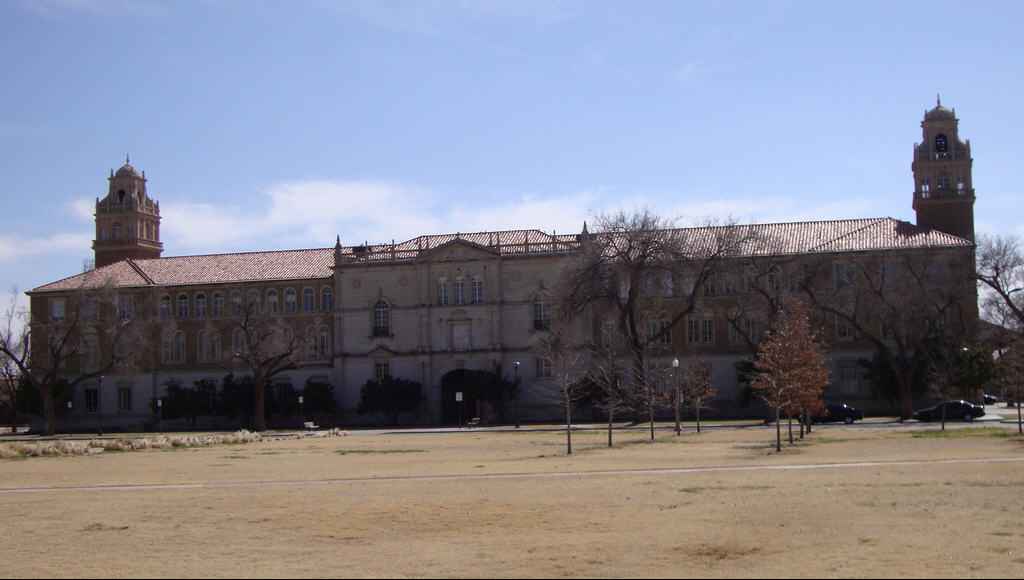 The Texas Tech University is founded as a College in Lubbock, 1923, and later in the sixties, turned into a University. Its construction dates back to the period between 1924 and 1925 by the American architect Wyatt C. Hedrick who wanted to base its architecture on the Spanish Renaissance. This inspiration especially stands out on the north wing of the building, where the University of Alcalá's façade is reproduced. The only difference lies in its symbols, substituted by American allegories to liberty and democracy, characteristics of this country. Thus, there were different coats of arms of the six nations that Texas had been part of since it first colonization: Spain, France, Mexico, Confederate States of America, United States and the ephemeral independent State of Texas (source).
Additional information:
Useful information:
Opening hours
Ticket: : 4.5 euros (reduced ticket: 3 euros)
Opening hours M-F: Guided visits M-F: 10.00 11.00 12.00 13.00 16.00 17.00 18.00 19.00
Saturday openings: Guided visits at 11:00 12:00 13:00 14:00 16:30 17:30 18:30 19:30
Holiday openings: Guided visits at 11:00 12:00 13:00 14:00 16:30 17:30 18:30 19:30
Closed Mondays and January, 1st and December 24th, 25th and 31th
Tel:+34 91 885 64 87
Tel:+34 91 885 41 15
Access from Madrid
Renfe Cercanías railroads C-1, C-2 and C7A.
Bus nº 223 (departure from Avenida de América Interchanger).
Image gallery:
On video:
Details of the facade

University presentation UAH

Where is it